Mongolia is ranked 23rd internationally in terms of its reserves of coal. The largest consumer of this vast coal resource is China. Mongolia single-handedly supplies 30-40% of China's coking coal demand as one of the biggest competitors in the China's market.
Throughout the country, there are 12 basins that consist of three types of coals, holding a confirmed coal reserve of 32.6b tonnes. The Mongolian Coal Association also reports that there are about 173b tonnes of undiscovered reserves that can be unearthed by additional geological surveys.
As of 2022, there are a total of 304 valid coal mining licenses in the country.
Coal resource distribution map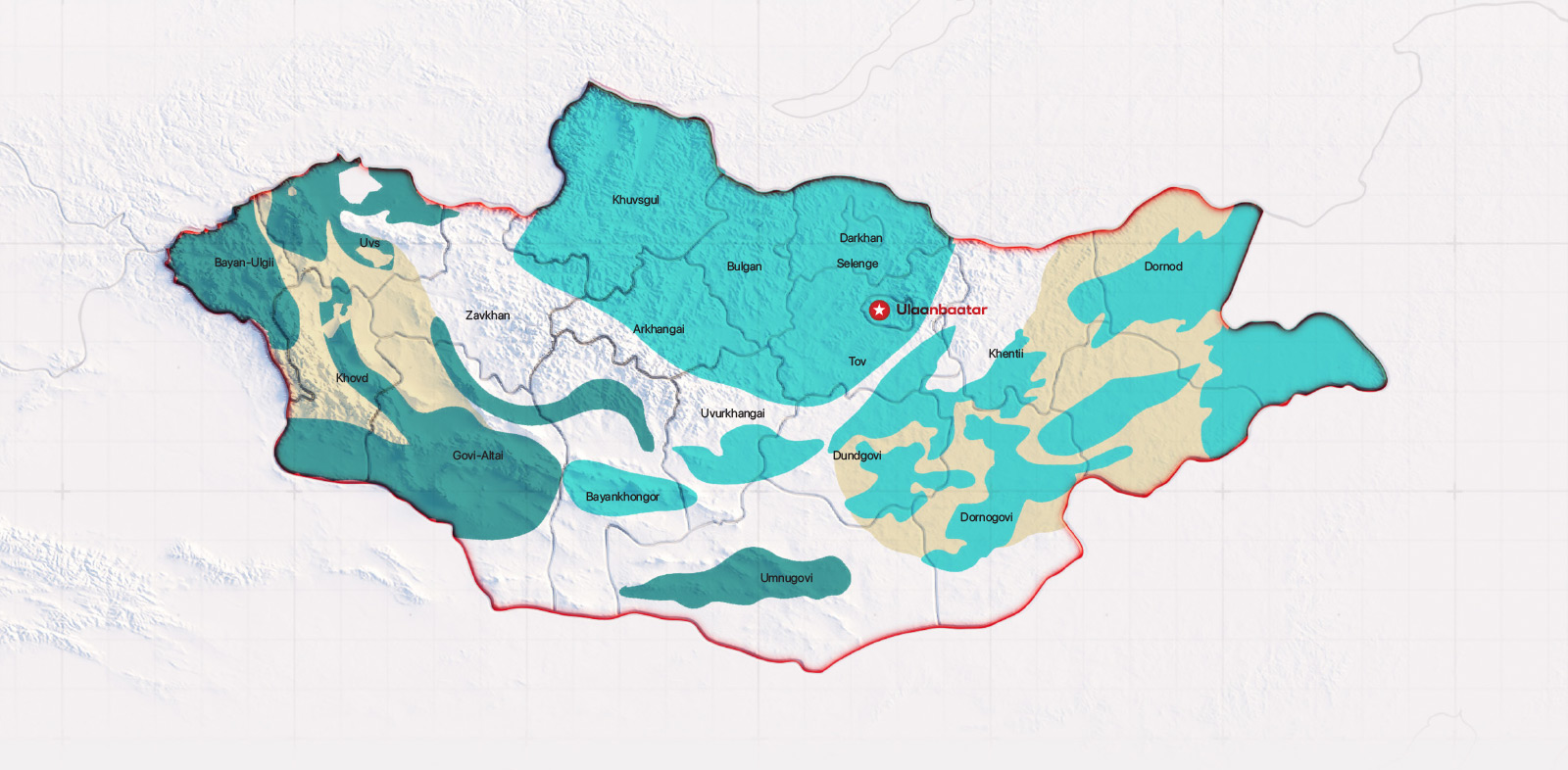 Source: The Mineral Resource and Petroleum Authority of Mongolia
Coal reserves by province as of 2016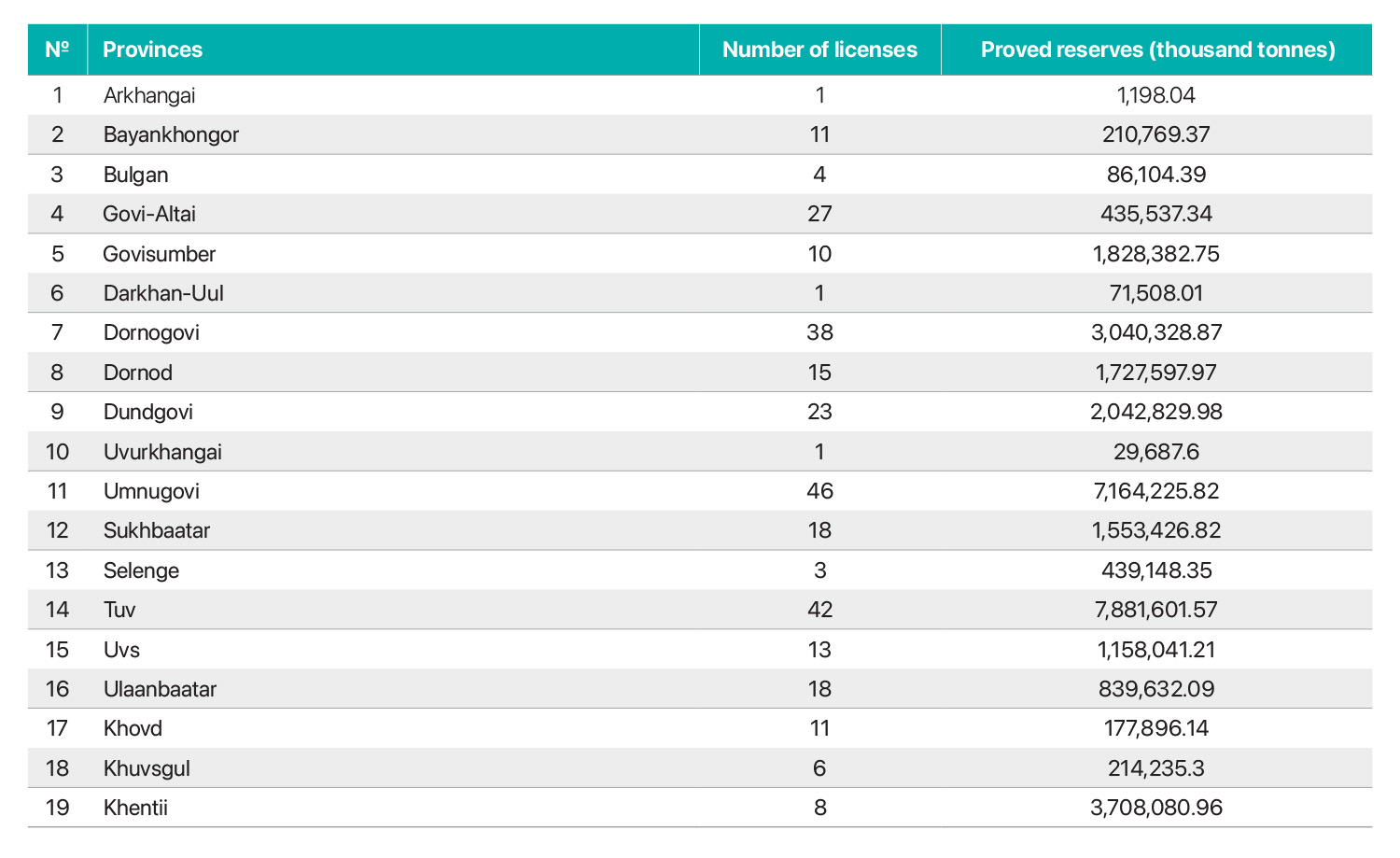 The table shows all confirmed coal reserves. As of 2019, total reserves currently stands at 32.6b tonnes. Information was collected from the 173 coal producers within the framework of the 296 coal mining licenses already issued, reviewed by the Mineral Resources Professional Council, submitted to the Mineral Resource and Petroleum Authority of Mongolia.
Source: The Mineral Resource and Petroleum Authority of Mongolia
The coal industry as a percentage of overall exports exceeded copper in 2010, and its contribution to the state budget also surpassed copper, becoming the biggest driver in the country's economy. Mongolia single-handedly supplies 30-40% of China's total coal consumption and is one of the biggest players in the coking coal industry.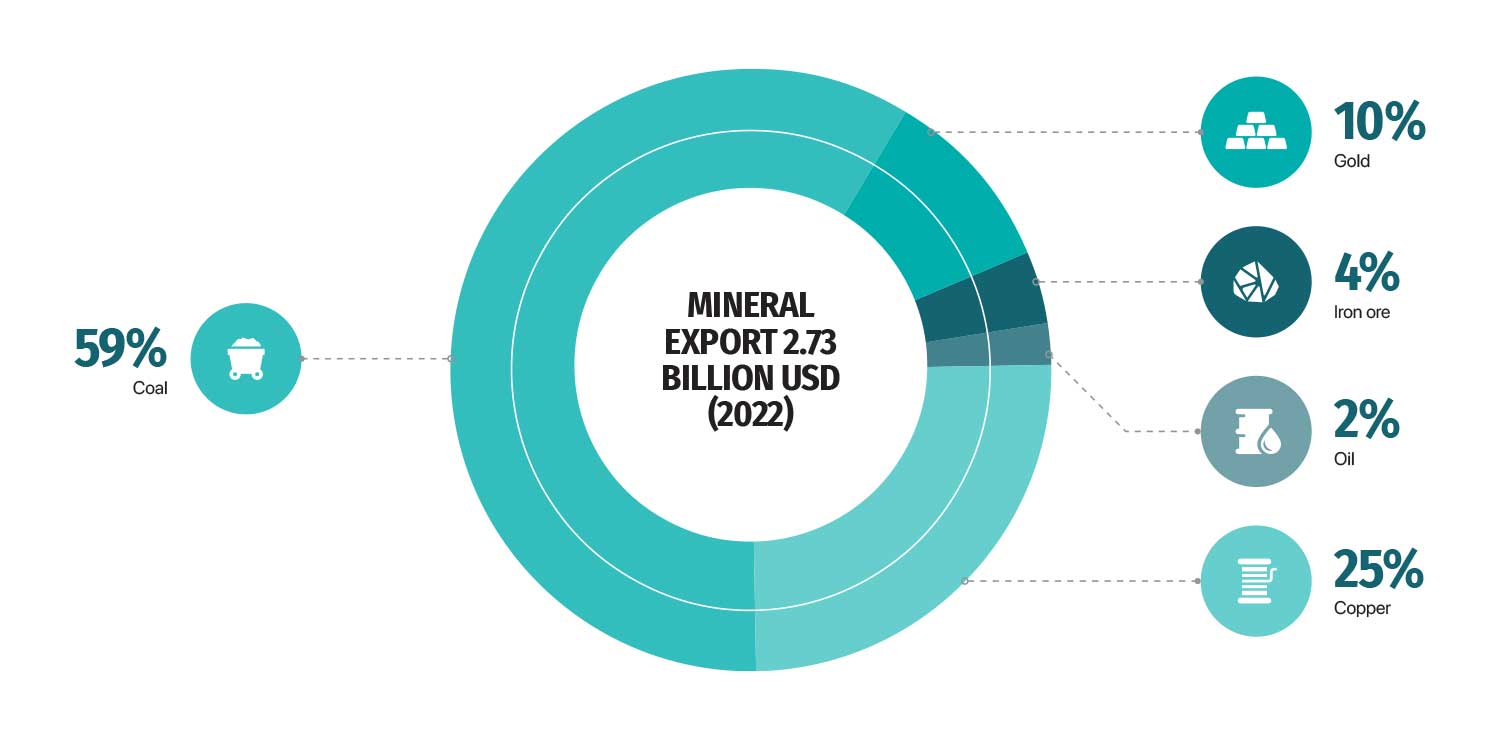 Source: Ministry of Finance, Ministry of Mining and Heavy Industry

Source: Ministry of Finance, Ministry of Mining and Heavy Industry
Fiscal revenues from coal (billion mnt)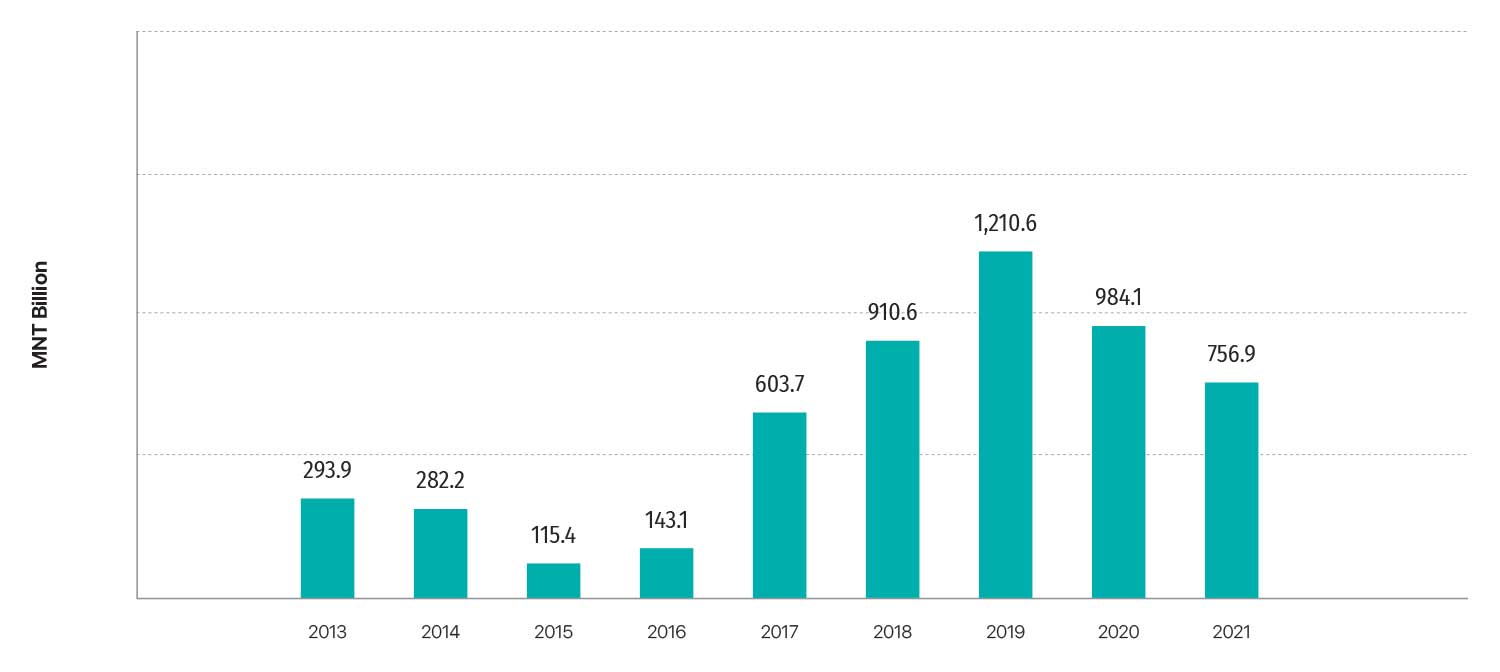 Source: Ministry of Finance, Ministry of Mining and Heavy Industry
China's annual coking coal import volumes (Mt) (Notes)

Notes:
(i) Imports from Mongolia include raw unprocessed, dry and wet processed coking coal.
(ii) Due to rounding, discrepancy may exist between summary of volumes of individual countries with total volume, year-on-year percentage changes and market share.
COAL MINING LICENSES (NUMBER AND TOTAL AREA)
Of the 38 coal mines currently operating in the country, over half are hard coal mines:

Mongolia exports coal via five border checkpoints, namely Gashuunsukhait, Shiveekhuren, Khangi, Bichigt, and Yarant. The majority of exports flow through via Gashuunsukhait-Ganqimaodu port (51.4%) while 40% flows through the Shiveekhuren-Sekhe crossing.
% of coal exports key border crossings

Source: Mongolian Coal Association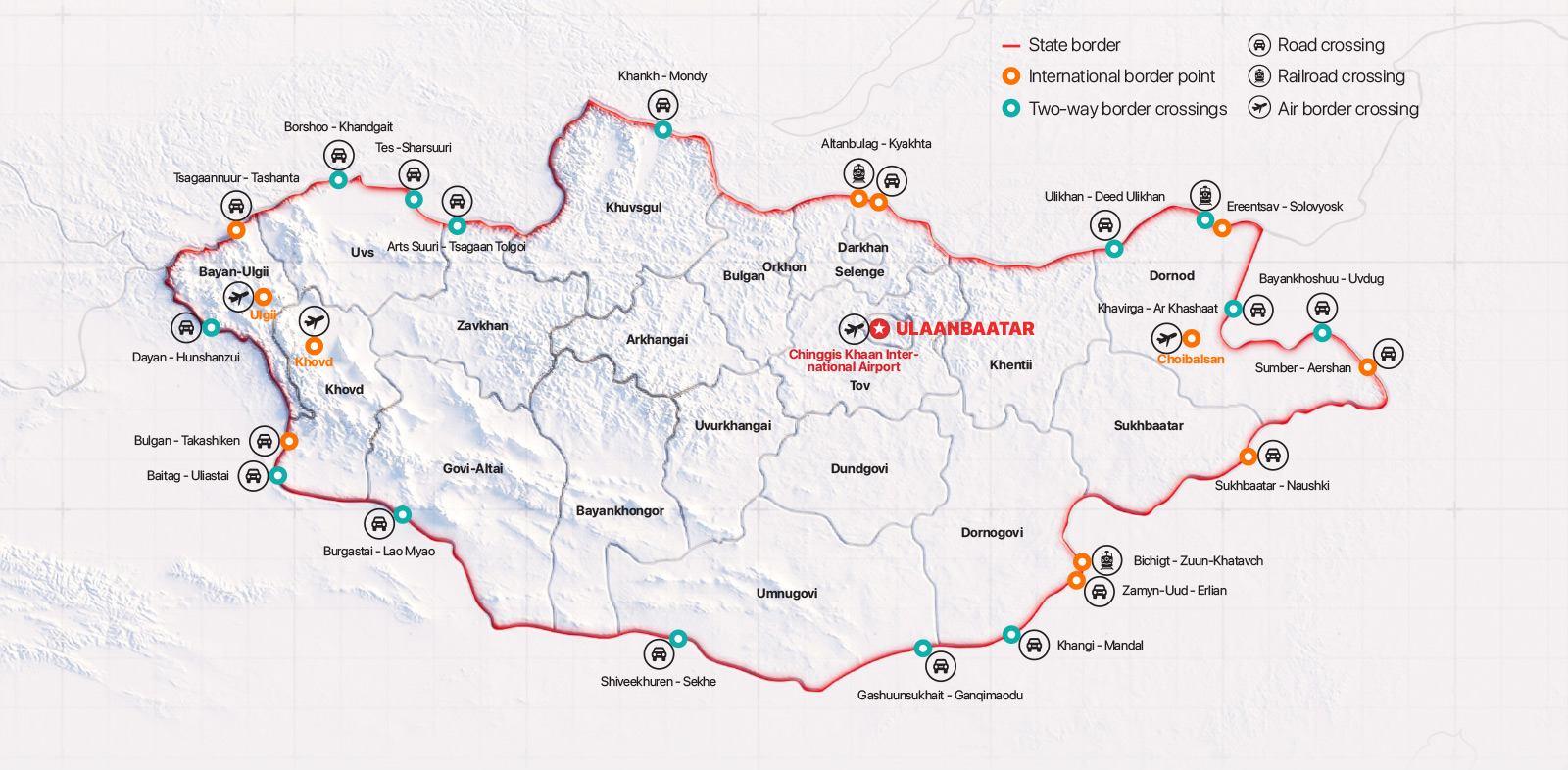 Coal is exported both by road and rail, with the majority of exports still being transported across the border to China via road. Only a small portion – or just under 1%, is transported is exported via the Zamyn-Uud-Ereen border crossing.
A number of public and private partnerships exist on road and railroad construction projects, ultimately helping to boost coal exports: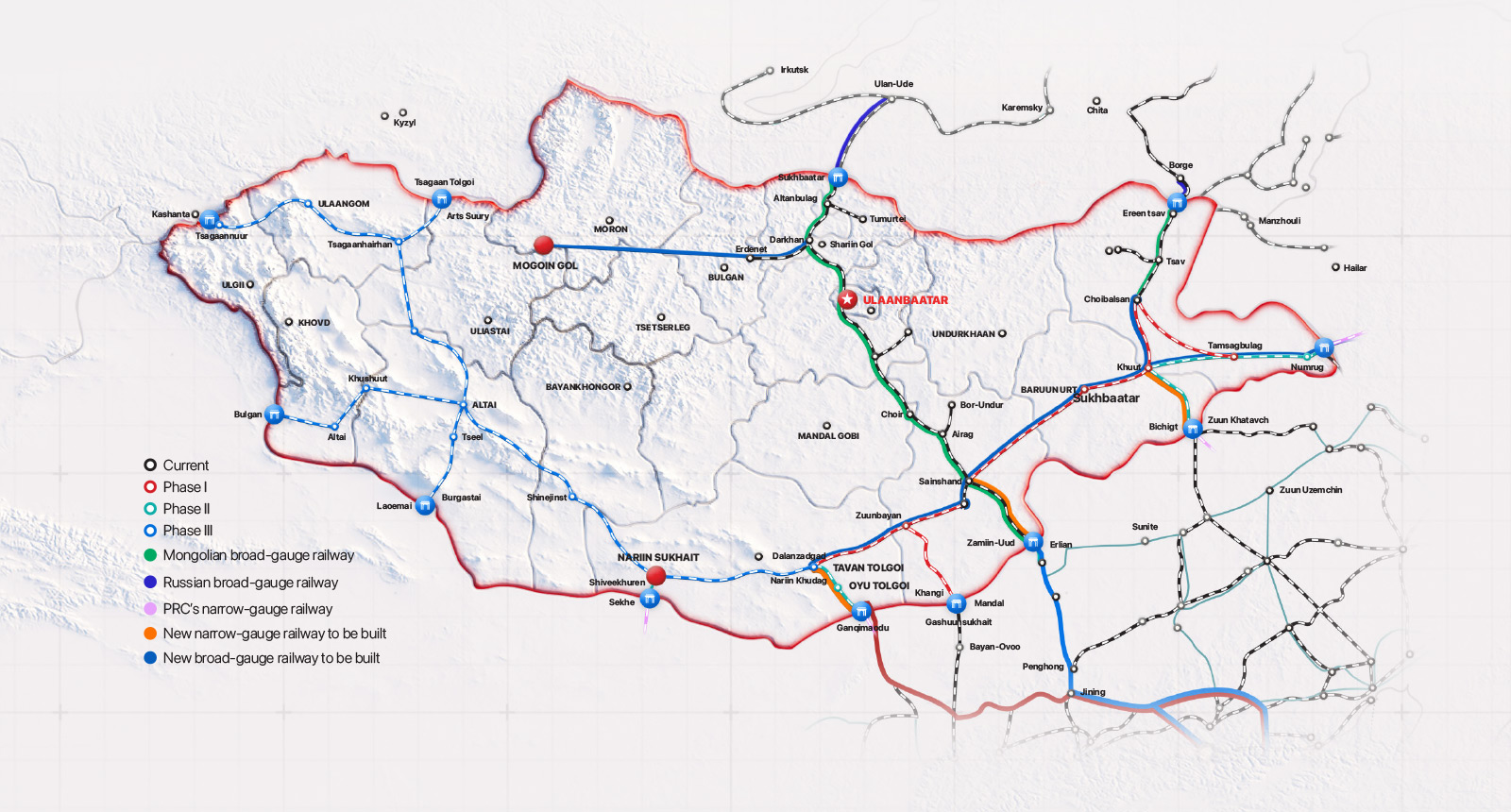 The Government of Mongolia has a plan to enhance the country's railway system. Three major railway projects were completed in 2022, and more are in the pipeline.
1. Tavan Tolgoi - Zuunbayan railway project
The construction of Tavantoloi – Zuunbayan route finished and trial transportation began. It is expected to have annual capacity of 15 million tonnes of freight with the potential to double.
2. Tavan Tolgoi - Gashuunsukhait railway project
Tavantolgoi – Gashuunsukhait railway has been completed and has an annual capacity of 30-50 million tonnes of freight transportation. It will reduce the current export cost from Tavantolgoi deposit by 3.8 times. The railway is of great social and economic importance as it connects Tavan Tolgoi, which produces 50 percent of the country's coking coal production, and Gashuunsukhait, the largest coal exporting port.
3. Zuunbayan - Khangi railway project
Zuunbayan – Khangi railway has been completed and has an annual capacity of 20 million tonnes of freight transportation. The railway project will also increase the export value of over 10 deposits in the Gobi region.
The Khangi port is strategically located in the middle of Gashuunsukhait, the main coal and copper export port, and Zamyn-Uud, the main import port.
Upcoming railway projects
Mongolia's policy is to process their own coal, thereby adding more value to the industry prior to exporting abroad. Although coal accounts for over 30% of total exports, coal processing only accounts for about 20% of all coal exports. Current state policy is focused on increasing the number of coal processing plants.
About 30 coal processing plants currently operate in Mongolia, out of which about 20 deploy the wet method, with the remaining amount being processed using dry method technologies.
Mongolia's first-ever coal processing plant was established in 2011 by Energy Resource LLC within the framework of the Ukhaa Khudag project. Built with three phases, each phase of the plant is capable of washing and processing 5m tonnes of coal each year. Within a decade after becoming operational, the plant had processed a total amount of 69.5m tonnes of raw coal, produced 34.6m tonnes coking coal, and refined 13m tonnes of thermal coal.
Located in the Nariin Sukhait of Umnugovi province, MAK's processing plant has an annual processing capacity of 1m tonnes of coal. The plant, which is currently running at 65% of output capacity, uses 100 liters of water and recycles 92% of the used water. Capacity can be further expanded to 5m tonnes.
In April 2021, the Mineral Resources Professional Council reviewed and accepted the feasibility study of the Tavan Tolgoi coal processing plant. The plant is expected to have three building blocks with a processing capacity of ten million tonnes per annum each and a total capacity of 30 million tonnes per year. Project costs are estimated to be $911.5m and investment payback is expected within seven years. The plant will be specifically used for processing the coking of low-grade coals at Tavan Tolgoi, and for producing coking coal concentrate, semi-soft coking coal concentrate, and middlings for export to international markets.
The Mongolian state-owned Erdenes Tavan Tolgoi, the Mongolian Stock Exchange-listed Tavan Tolgoi JSC, and the Hong Kong Stock Exchange-listed Mongolian Mining Corporation (also known as Energy Resource LLC) all operate coal mines at the Tavan Tolgoi residual deposits. These three projects account for over half of Mongolia's coal exports.
According to an assessment of the JORC standards, the Tavan Tolgoi coal deposit has 7.4 billion metric tonnes of coal reserves. Of this, 5.1 billion tonnes are coking coal and 2.2 billion are thermal coal as Erdenet Tavan Tolgoi announced.
The state-owned company, Erdenes Tavan Tolgoi, commenced its raw coal production in 2010 and became the first domestic company to exceed $1b in sales revenue in 2019.
Mongolian Mining Corporation (also known as Energy Resource LLC) is the largest producer of washed hard coking coal in Mongolia. The company owns the Ukhaa Khudag deposit, a part of Tavan Tolgoi residual deposits, as well as the Baruun Naran coking coal deposit, both located in the South Gobi region, Mongolia.
In addition, multiple projects which include Southgobi Resources, Usukh Zoos, and Mongolyn Alt Corporation all operate at the Nariin Sukhait residual deposits, located over 400 km away from Tavan Tolgoi deposits, and all produce coal for export.
Nariin Sukhait deposits hold about 380 million tonnes of high-rank, low-ash, low-sulfur metallurgical, and steam coal resources.
Location map of coal deposits and occurrences in Mongolia, scale 1: 12 000 000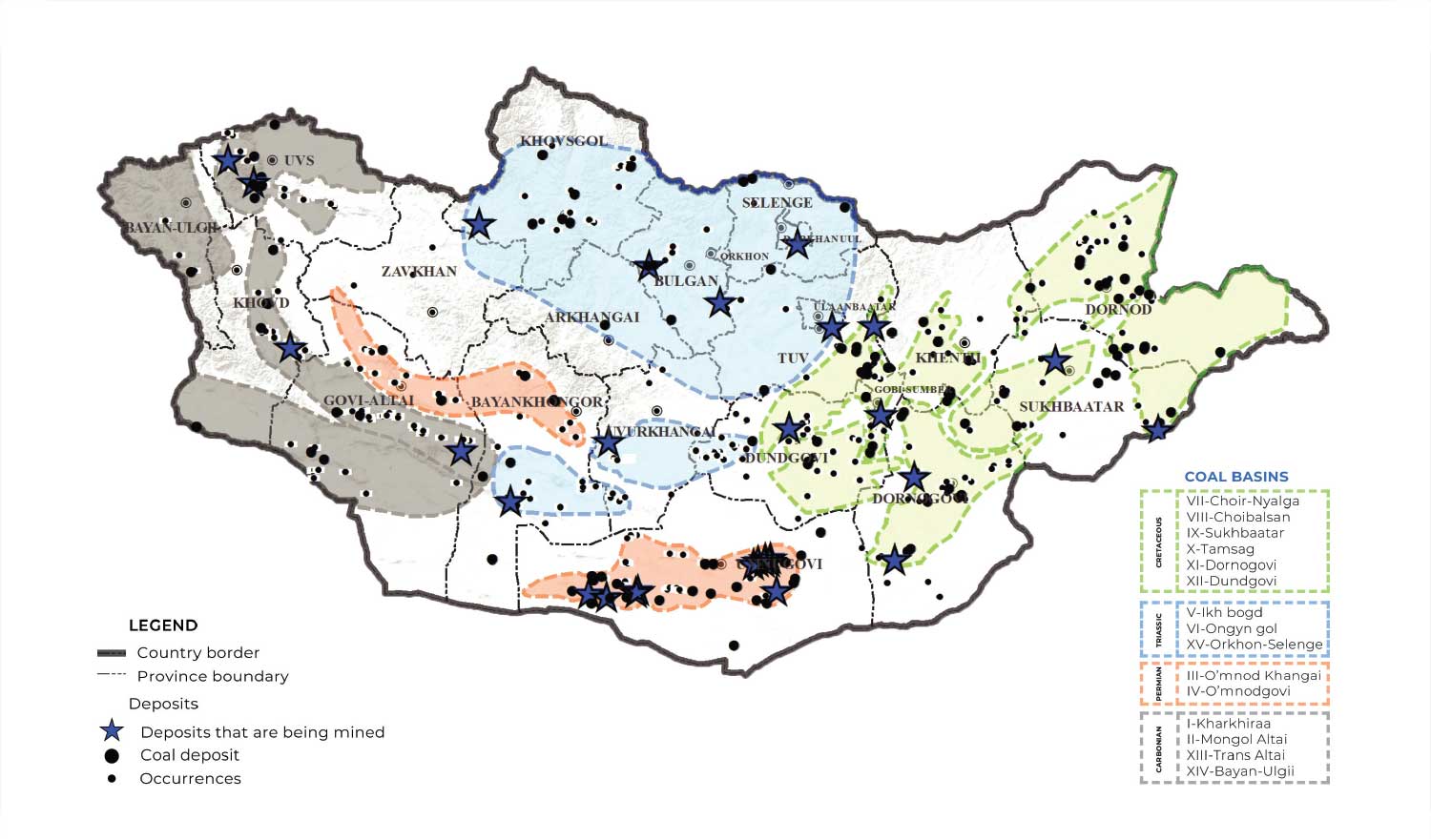 Source: National Geology Survey of Mongolia
In the western part of Mongolia, Mongolia Energy Corporation (MEC) operates Khushuut Coking Coal Projects which is located approximately 1,350 km west of Ulaanbaatar in the Khovd Province of Mongolia. It is about 311 km from the Xinjiang Takeshiken border, connected by the Khushuut Road. The company, listed on the Hong Kong Stock Exchange, sells coking coal and thermal coal to Northern China.
Another highly prospective major coal deposit is Aspire Mining Limited's project.
Aspire Mining Limited is an Australian Stock Exchange-listed 100% metallurgical coal and rail company with a 100% interest in the world-class Ovoot Coking Coal Project and a 90% interest in the Nuurstei Coking Coal Project. Aspire's flagship Ovoot project, located in Khuvsgul Province of Mongolia, hosts 255 Mt JORC Coal Reserves.
The company has not yet started its coal project, postponing its implementation.
In 2022, The Mongolian Government completed new railway projects to boost exports of coal and other minerals. This includes a 267 km-long railroad in the Tavantolgoi-Gashuunsukhait route, 416 km-long railroad in the Tavantolgoi Zuunbayan route, and a 227 km-long railroad between Zuunbayan and Khangi port, as it was mentioned on the previous
pages.
These railroads will have broad gauges. However, the key consumer market in China has a narrow-gauge railway network. Therefore, the two sides still need to agree on plans for track gauge conversion points and develop freight transfer terminals.
The Prime Minister of Mongolia L.Oyun-Erdene, during his visit to China in February 2022, negotiated connection points with the Chinese side. This setup favorable conditions for the continuation of the railroad projects.
The Prime Minister described the mutual agreement on the railway gauge conversion points as "a major undertaking, equivalent to the launch of the underground mine of Oyu Tolgoi project, that can expand Mongolia's export 2-3 times."
Mongolia's annual export of coal could reach 50 million tonnes with the implementation of these freight transfer terminals, announced the Minister of Mining and Heavy Industry of Mongolia.