/

/

Foreign Direct Investment in…
​
Foreign Direct Investment in The Mining Sector
Foreign investment has played a significant role in the development of Mongolia's mining sector. The country has rich deposits of coal, copper, gold, and other minerals, and these resources have been a major draw for foreign investors.
The Mongolian government has sought to attract foreign investment in order to develop its mining sector and to tap into the country's vast mineral resources. The government has implemented a number of measures to improve the investment climate and to make Mongolia more attractive to foreign investors, including simplifying the process for obtaining permits and licenses, reducing bureaucracy, and increasing transparency.
The country's Investment Law does not discriminate between foreign and national investors, granting equal rights and tax incentives and stability for large investments.
Despite these efforts, FDI inflows into Mongolia have been uneven, and the country has faced challenges in attracting and retaining investment. The decline in global commodity prices, some regulatory uncertainties within the country, and recently, disruptions caused by the Covid-19 pandemic have also had an impact on investment.
Mining sector alone accounts for an average of over 70% of all foreign direct investment (FDI) in Mongolia. Many mining projects were launched during a period of high global commodity prices, making them economically viable.
One of them is the Oyu Tolgoi copper and gold mine, which is a joint venture between the Mongolian government and a multinational mining company Rio Tinto. The mine is anticipated to become the fourth largest of its kind in the world by 2030. Rio Tinto's investment in Oyu Tolgoi has been one of the largest FDI projects in Mongolia, and the mine is expected to be a major contributor to the country's economy for many years to come.
The 2021 inflow of FDI to Mongolia by country

MINING LICENSE OWNERS IN MONGOLIA AS OF 2022

Source: The Mineral Resource and Petroleum Authority of Mongolia
100% foreign-owned companies of license holders, as of 2022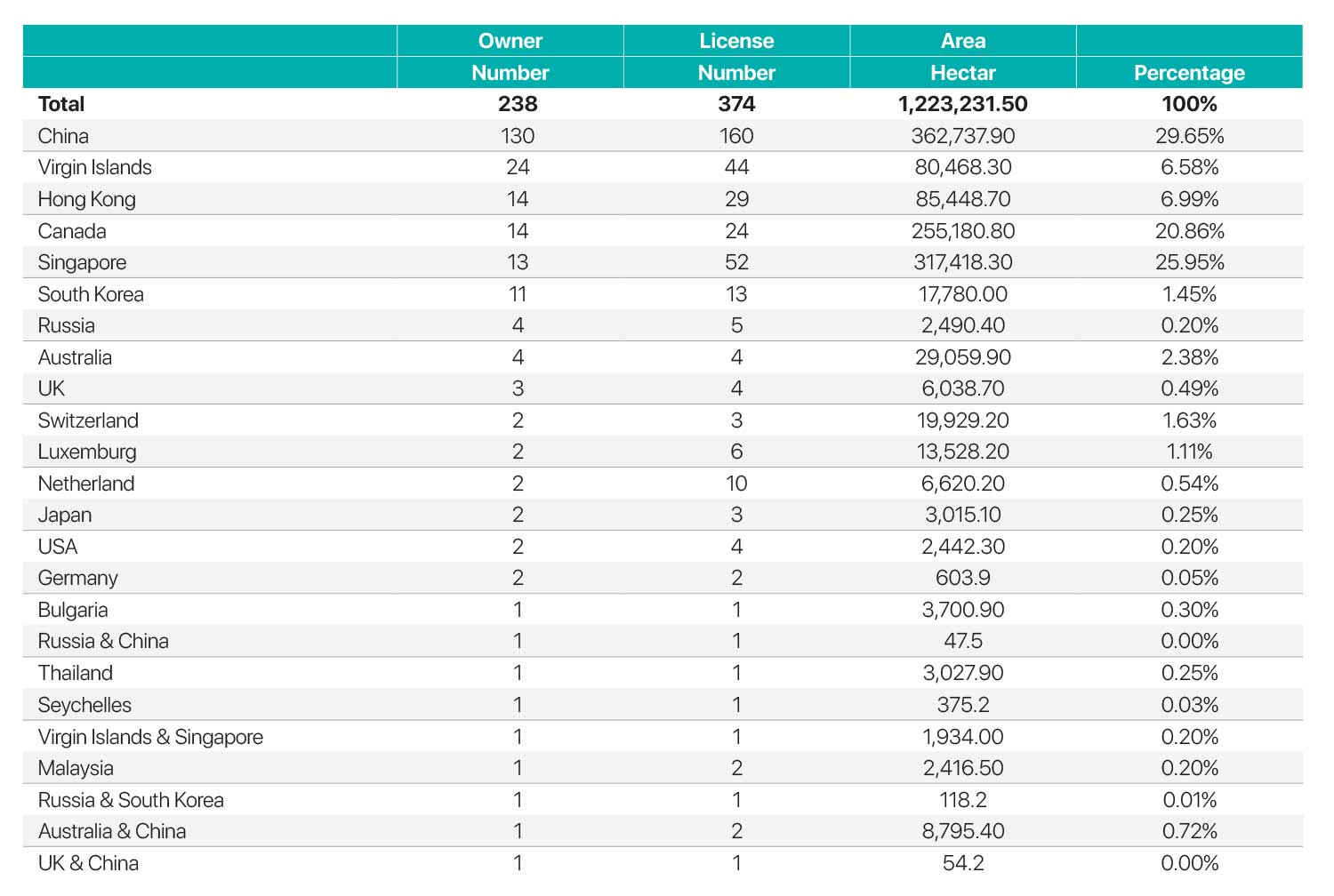 Source: The Mineral Resource and Petroleum Authority of Mongolia
Mining sector share in foreign direct investment flow into Mongolia