Mongolia is ranked 12th in the world in terms of its total copper deposits and is the 5th largest exporter of copper ores. Two key copper deposits, namely Oyu Tolgoi and Erdenet, are the largest in Central Asia.
Copper plays a significant role in Mongolia's economy and its contribution to the mining industry in the overall economy is considered the third highest in the world, ranking the country above other mining-driven economies like Uzbekistan and Kazakhstan (joint 16th), Georgia (22nd), and Russia (23rd). The Rio Tinto-backed Oyu Tolgoi project is forecasted to become the world's 4th biggest copper producer by 2030.
Mongolia has the 12th biggest resource of copper in the world with 53.4 million metric tonnes. The country is also 17th in terms of copper production and 5th worldwide in terms of copper ore exports. As of Q1 2021, there are 18 copper deposits across Mongolia with valid mining licenses. Of these, the biggest deposits are the Erdenet, Oyu Tolgoi, and Tsagaan Suvarga deposits.
In 2018, the National Development Agency estimated the value of Mongolia's copper reserves at about USD 529 billion based on the copper reserves and market prices at the time.
Exploration projects are progressing at a rapid phase, especially in the gold and copper porphyry belt of Southern Mongolia, where the Oyu Tolgoi and Tsagaan Suvarga projects are in operation. By way of example, the ASX-listed Xanadu Mines and TSX-listed Kincora Copper have been exploring the region for years.
VALID COPPER MINING LICENSES (AS OF 2022)
In Mongolia, two main concentrators produce export copper concentrate – the Erdenet and Oyu Tolgoi projects. The country began exporting copper concentrates in 1970 with the establishment of the Erdenet mine which is the key deposit for copper concentrates. Copper exports accounted for 22.2% of total exports in 2013 when the Erdenet Plant was the only copper exporter. After Oyu Tolgoi became operational in the following year, 44.5% of total exports were copper, which increased to 49% in 2015.
Mongolian refined copper is supplied by both Erdmin LLC and Achit Ikht LLC.
Achit Ikht LLC exports processed copper cathode to China. Erdmin LLC produces copper cathode and copper products, such as copper wires, for domestic consumption.
Looking forward, Mongolia is interested in refining copper concentrates and producing copper cathode. Therefore, the following two projects are included in the "Vision-2050" program:
With new projects such as the Tsagaan Suvarga and Kharmagtai projects, Mongolia is expected to become one of the world's largest copper suppliers in the decades to come.
Copper production volume (million tonne)

Copper concentrate exports volume (million tonne) and revenue (million $)

copper cathodes, 99% (tonne)

Mongolia exports 100% of its copper concentrates to the Chinese market via road and rail. The Erdenet plant uses the Erdenet-Zamyn-Uud route while the Oyu Tolgoi plant delivers via the Oyu Tolgoi- Gashuunsukhait road route for exports.
Chinese demand for Mongolian copper concentrate is expected to continue to be strong in the mid and long term.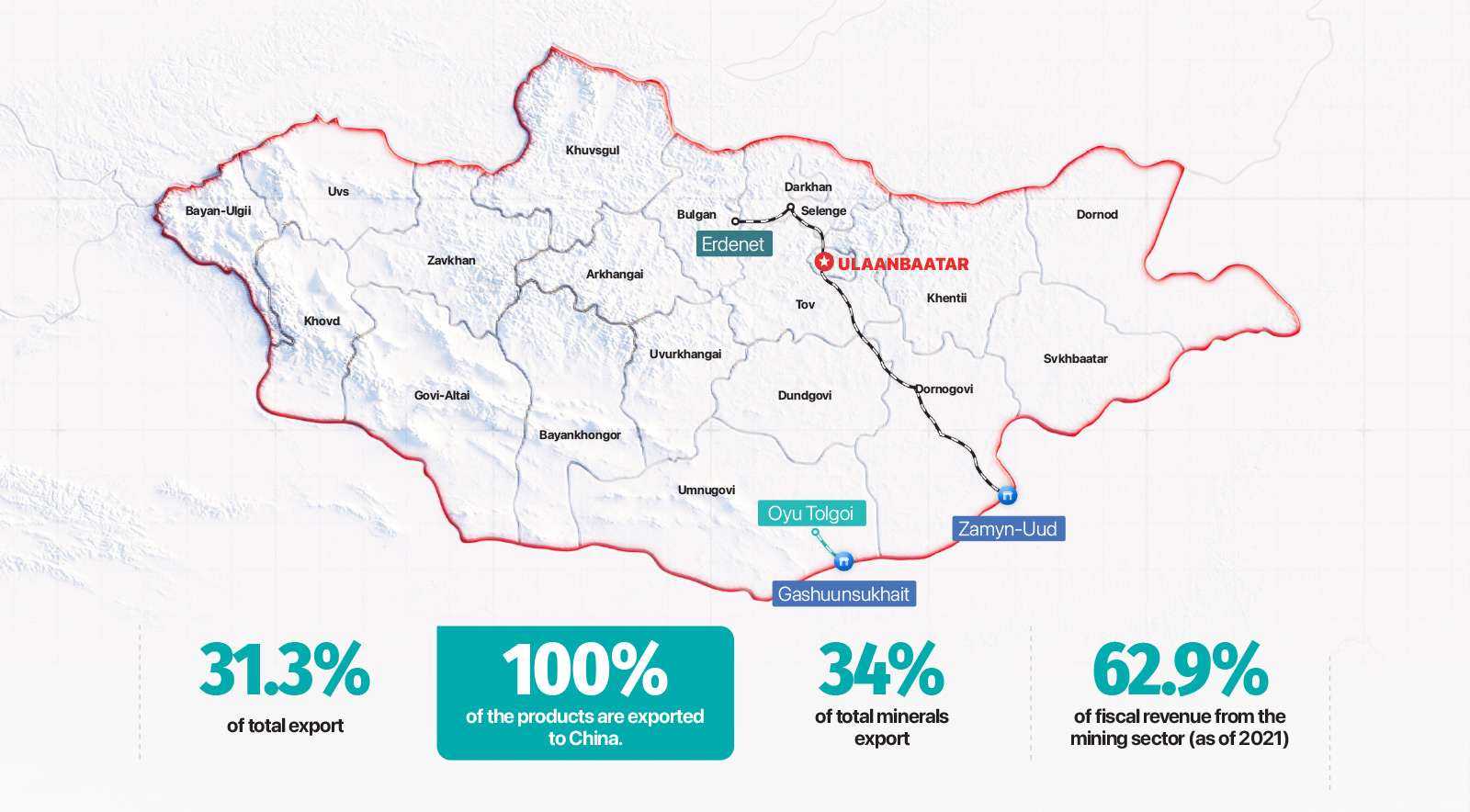 Location

Khan-Bogd, Umnugobi Province, Mongolia

Ownership:

Erdenes Oyu Tolgoi LLC - 34% (Government of Mongolia) Turquoise Hill Resources Ltd - 66% (Rio Tinto owns 51%)

Operations

Active

Commencement

Open-pit mine - 2013
Underground mine - 2023

Mineral reserves:

Copper and gold

Production Capacity:

100 kt p/a

Total number of employees:

14,400 (as of 2021)

Infrastructure:

Concentrator, open-pit mine, underground mine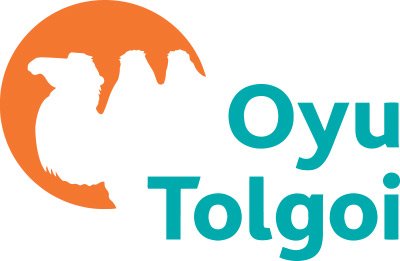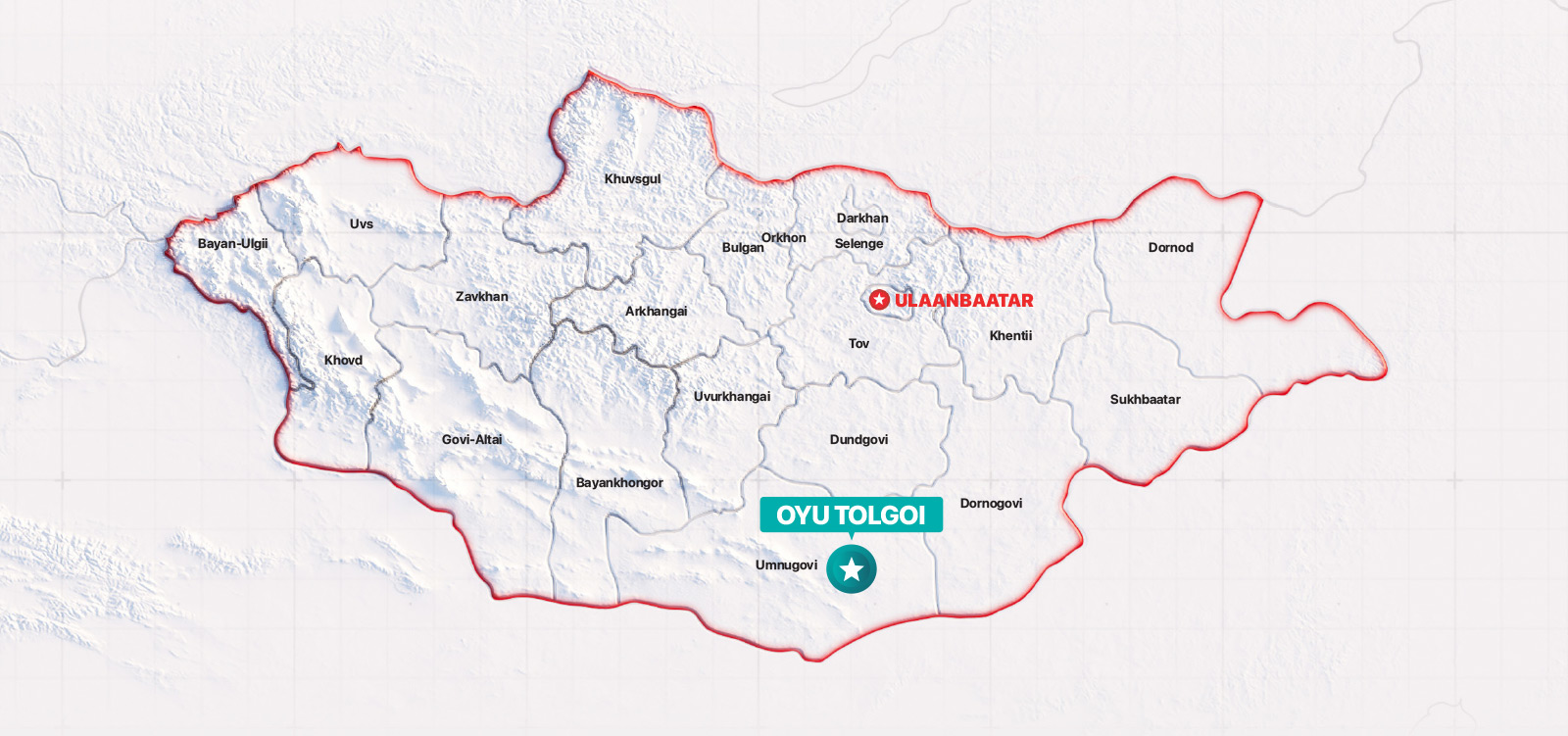 Copper Concentrate production

Oyu Tolgoi is known to be one of the largest deposits of copper and gold in the world. The Mongolian government owns a 34% stake in Oyu Tolgoi (OT), while the rest is controlled by Rio Tinto, the second-largest mining company in the world, which operates the mine. In 2022, Rio Tinto invested $3.1 billion and completed the acquisition of 49% of Turquoise Hill Resources, which previously owned 66% of Oyu Tolgoi. Rio Tinto CEO Jakob Stausholm stated that "Oyu Tolgoi is a remarkable asset with talented people that will bring significant long-term value for both Rio Tinto and Mongolia."
The Oyu Tolgoi project is located approximately 550 kilometres south of Ulaanbaatar, and 80 kilometres north of Mongolia-China border. The property is cut by the Oyu Tolgoi trend, a 12 kilometres north-south oriented corridor which is host to the known deposits, Hugo North, Hugo South, Oyut and Heruga. Open-pit mining operations commenced at Oyut in 2013. The Hugo North depost is currently being developed as an underground operation.
The copper concentrator plant, with related facilities and necessary infrastructure, was originally designed to process approximately 100,000 tonnes of ore per day from the Oyut open pit. However, since 2014, the concentrator has consistently achieved a throughout of over 105,000 tonnes per day due to improvements in operating practices.
"Rio Tinto strongly believes in the long-term success of Oyu Tolgoi and Mongolia"
Jakob Stausholm, CEO of Rio Tinto
Production of the underground mine is planned to start in the first half of 2023.
From 2028 to 2036, the project is expected to have an average production of 500,000 tonnes of copper a year from both open pit and underground operations, compared with 163,000 tonnes in 2021 from open pit operations.
With the commencent of the OT project, large inflows of foreign investment has been come to Mongolia since 2011.
Between 2010 and 2020, the OT project invested $11.6 billion in Mongolia. Rio Tinto and the Government of Mongolia renegotiated the deal several times over the progress of the project due to implementation process and excess cost.
"Rio Tinto strongly believes in the long-term success of Oyu Tolgoi and Mongolia, and delivering for all stakeholders over the long-term. The transaction will simplify the ownership structure, and further strengthen Rio Tinto's copper portfolio," Rio Tinto's Chief Executive Director Jakob Stausholm said in a statement.
Prioritized safety and achieved an All-Injury Frequency Rate (AIFR)
Achieved an average water-recycling rate
OF 89.1%, COMPARED TO A TARGET OF 80%.
Erdenet Mining Corporation SOE
The Erdenet Mining Corporation (EMC) once used to provide a third of the Mongolia's fiscal revenue before Oyu Tolgoi mine project commenced. Nowadays EMC plant annually produces 37m tonnes of copper ore, about 580,000 tonnes of concentrates, up to 5000 tonnes of molybdenum, and processing 32m tonnes of copper ores.
The production contract was extended by an additional 30 years owning to the fact that geological exploration conducted between 2017 and 2019 discovered an additional $21.2m worth of minerals.
EMC SOE supplies 3% of all copper traded in global markets, and 5% of molybdenum concentrates, and is ranked 6th in Asia with its copper production capacity.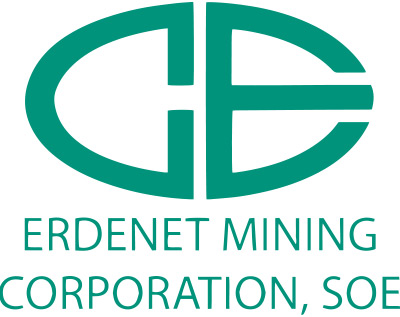 Erdenet Mining Corporation – key indicators

Contribution to the economy (in %)
Extraction of high-grade copper and gold is expected to continue until 2021

Aranjin Resources Limited is an emerging copper exploration company with a focus on Mongolia. The company has three highly prospective projects across Mongolia, including Sharga, Bayan Undur and Victory Discovery at Baavhai Uul Project with 80% interest through JV agreement with ION Energy.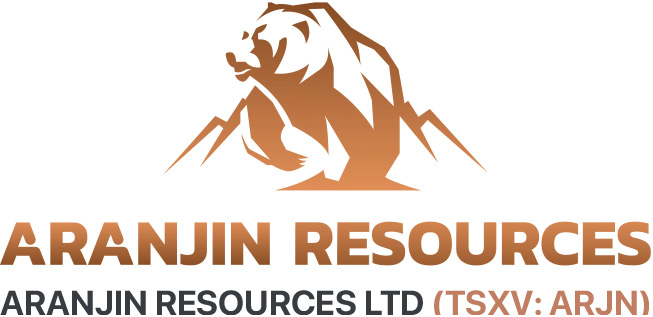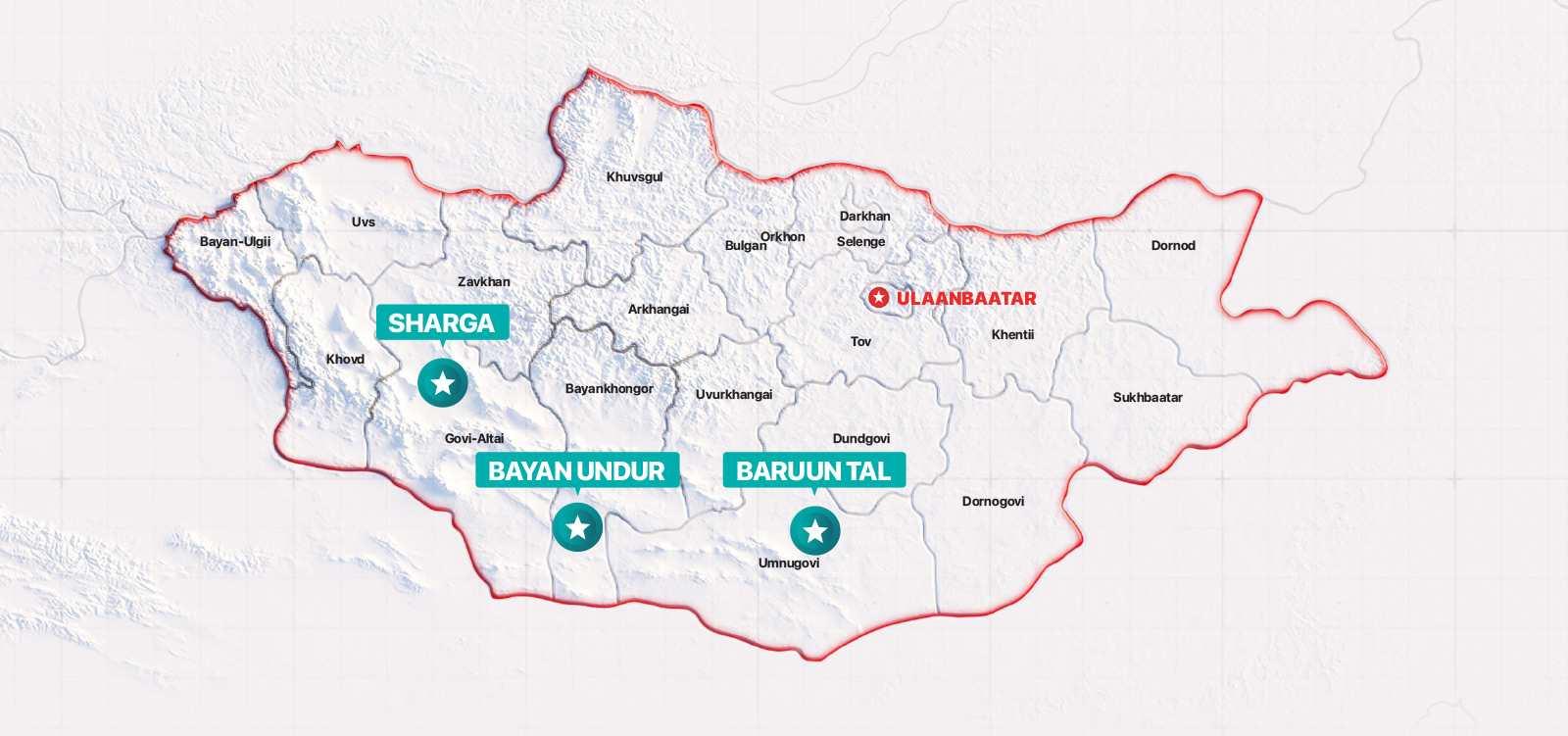 01. Proven in-country team
The Management and Board of Aranjin have an unrivalled track record in developing and scaling mining projects – Hunnu Coal sold to Banpu Coal for $500m and Steppe Gold, now Mongolia's top gold producer.
02. Highly propsective exploration portfolio
The Company now has three highly prospective projects across Mongolia. Drillin commenced and is in progress on Sharga, Bayan Undur and Victory Copper Nickel Discovery at ION Energy's Baavhai Uul, through a JV agreement with Aranjin Resources.
Highly-encouraging results at Sharga asset.
Strong indications at the Victory Discovery show significant copper and nickel anomalies.
03. Compelling location for Copper Supply
China's preferred source for copper will be Belt and Road countries like Mongolia. Strong supply chains for copper concentrate already established through Oyu Tolgoi. Aranjin's projects, Sharga and Bayan Undur, as well as the Victory Discovery are close to the Chinese border.
04. Strong support for mining in Mongolia
The pro-mining government, supported by a political party with a majority in parliament, is offering robust support for foreign investment, the mining industry, and the infrastructure required.
Aranjin Resources – Key indicators